Fashionspam's ICONS of MEN's STYLE Series presents today the ageless men's outwear
items from the blouson to the famous denim jacket, the fishtail parka, the biker jacket, the
trench coat..and many more!
THE BLOUSON
Neat, simple, casual, comfortable, smarter than the denim jacket, not as load with
stereotype as the leather one, the blouson has been the choice of powerful men in
the west from John F. Kennedy, to Bill Clinton and George W. Bush!
John F. Kennedy was a fan, though only while sailing
Originally inspired by the 1937 G9 Baracuta, and for a while known as the
now also known as the windbreaker, golf jacket, or Harrington became the official
attire for US Presidents.
When Elvis Presley wore the style in King Creole 1958, James Dean wore
and whore a G9 when he was photographed riding on one of his many motorcycles
for the cover of LIFE Magazine in 1963, and when even Frank Sinatra

wore one in
Steve McQueen
CLICK CLICK CLICK TO READ MORE & FOR MORE PICTURES !!!
The blouson's functionality is a large part of its appeal: it is lightweight but showerproof,
and easy for all ages to wear. The jacket became a menswear staple in the 2nd half of the
20th century through pop culture, adopted as part of the 1950s teenage uniform and,
20 years later, by the skinheadand mod movements in the UK, largely thanks to the pioneering
London retailer John Simons and his store Ivy Shop, which saw queues to buy blousons;
The Clash were fans of the jacket for their Times Square concerts in 1981!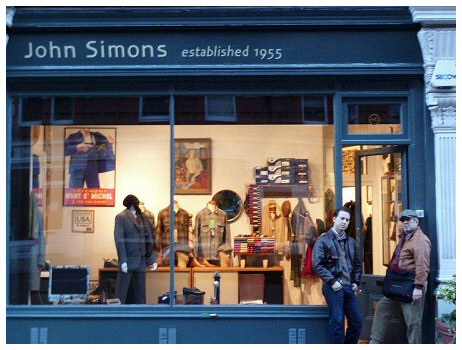 John Simons London
John Simons Blouson
James Dean
The blouson is worn with certain insouciance - almost undone, but not quite,
allowing that other 1950s youth essential, the T-shirt, to show.
Elvis Presley in King Creole 1958